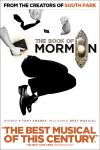 The Book of Mormon
Helyszín Prince of Wales Theatre
Ár a 8241 Ft
The Book of Mormon is the funniest and hilarious musical from Broadway in New York - ever! The musical has won 9 Tony Awards including Best Musical. It's an absolute must-see from the creators of South Park.

Highlights:
- Secure tickets to this popular musical
- Choose your own seats
- Laugh your pants off

What is The Book of Mormon about?
The Book of Mormon is about two young missionaries, who venture off to a dangerous part of Uganda to convert their citizens to the Mormon religion. One missionary, Elder Price, is a strong believer and make things happen for himself while his partner, Elder Cunningham, is a bit of a nerd and socially awkward but means well - even when he embroider the truth, which eventually lands him in trouble.

Our two missionaries learn that it is not that easy to spread their message in an Africa plagued by AIDS, poverty, and violence!

Rolling Stones says, 'The Genii of South Park hit Broadway, and history is made. Mormon is on its march into legend'.
Time Out New York says, 'You'll laugh your head off. Mormon is musical comedy heaven'.
The New York Post says, 'I Love The Book Of Mormon'.

How do I get my tickets?
Shortly after your booking is complete, you will receive an e-ticket by email. Just print out your ticket and bring it with you to the theater.

Who is the musical suitable for?
The Book of Mormon contains explicit language, adult themes and sexually-explicit humor and is not suitable for young children.
.
How long is the musical?
The Book of Mormon lasts approx. 2 hours and 30 minutes, including intermission.

Who is the team behind?
The Book of Mormon is a musical production from the creators of South Park, Trey Parker and Matt Stone, and Avenue Q co-creator Robert Lopez.

The Book of Mormon Kritikák
"An unstoppable hit. Damnably clever and sharp."
Daily Telegraph
---
"It's the hit of the year. Surprising, beguiling absurdity, and daring at every level."
The Times
---
"The most talked about show in London. A blast of often goofy, sometimes glorious musical comic delight. This show is the real deal."
The Stage
---
"I absolutely loved it. Seriously inspired and absolutely uproarious."
The Independent
---
"The Book of Mormon is viciously funny. Spirited and refreshing; joyous and even cuddly. Its defining feature is a filthy irreverence – an infatuation with making fun of everything, including itself."
The Evening Standard
---
Információ a helyszínről
Információ az előadásról
Esti előadások
Monday to Saturday 7.30pm
Matinék
Wednesday and Saturday 2.30pm
Kezdő dátum
2019-02-22
Végső dátum
2019-05-25
Előadás hossza:
2 hours 30 minutes
Útmutató

(2mins) Take Coventry Street and the theatre is be past the London Trocadero on your right.

Térkép megtekintése