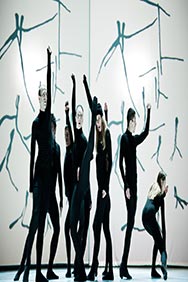 Marie Chouinard: Double Bill
Helyszín Sadler's Wells
Ár a 13361 Ft
The evenings first piece is titled Soft virtuosity, still humid, on the edge. Marie Chouinard, one of the world's most daring and relentlessly original choreographers, presents a double bill of dance. This new work explores different tempos, from a frantic pace to extreme slowness, through various forms of perambulation. Captured and projected live, the dancers' faces become the place of slow transformations, acting like kaleidoscopes in constant movement. In 1980, Chouinard discovered the book Mouvements, by the Belgian surrealist Henri Michaux (1899-1984). Containing 64 pages of India-ink drawings, Chouinard decrypted these images and reinterpreted them into a unique choreographic score which finishes the evening.
Információ a helyszínről
Információ az előadásról
Kezdő dátum
2016-06-20
Végső dátum
2016-06-21
Előadás hossza:
1 hour and 50 minutes
Útmutató

(5mins) Take Upper St towards the City Road crossroads. Continue straight and turn right into Rosebery Avenue, where the theatre is 100m down on the right.

Térkép megtekintése