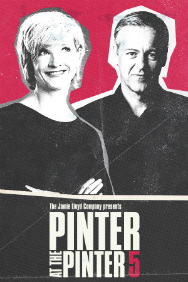 Pinter 5: The Room / Victoria Station / Family Voices
Helyszín Harold Pinter Theatre
Ár a 7026 Ft
Harold Pinter's first play, The Room, features in a triple-bill directed by Pinter's colleague and friend, Patrick Marber. An all-too-familiar and frighteningly topical brand of English xenophobia runs through this darkly funny and unexpectedly odd play from 1957. In the hilarious Victoria Station and the reflective Family Voices, isolated voices attempt to communicate, but can we ever truly express the depths of our feeling? Cast includes Rupert Graves, Jane Horrocks, Emma Naomi, Luke Thallon, Nicholas Woodesen. Free Q&A with members of the Company: Mon 14 January 2019. About the Pinter at the Pinter Season The Jamie Lloyd Company presents a complete season of Harold Pinter's one-act plays to celebrate the legacy of the Nobel Prize-winning British writer on the 10th anniversary of his death. This unique theatrical event will play at the Harold Pinter Theatre from December 13, 2018 through January 26, 2019, and promises an unforgettable celebration of the "most influential, provocative and poetic dramatist of his generation" (The Guardian).
Információ a helyszínről
Információ az előadásról
Kezdő dátum
2019-01-26
Végső dátum
2019-01-26
Előadás hossza:

Útmutató

(3mins) Take Coventry Street up to Oxendon Road; the theatre is 100 metres along on the right.

Térkép megtekintése