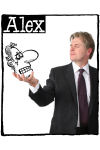 Alex
Helyszín Leicester Square Theatre
Following last year's smash-hit season, everyone's favourite obnoxious investment banker is back by popular demand! Celebrated stage and screen actor Robert Bathurst reprises his critically acclaimed role, bringing Alex to three-dimensional life!
Alex Kritikák
"Just like the cartoon it's an ingenious little show . you couldn't wish for a better Alex than Robert Bathurst, who is a delightfully loveable toad. this is a market leader in the West End's FTSE 100"
Daily Mail
---
"Bathurst is dream casting as Alex, the City high flier who loves his work as long as it's someone else doing it. Director Phelim McDermott has opted for a slick mixture of animation and live action. Bathurst's smoothy-chops charm holds everything together wonderfully"
Evening Standard
---
"It is flawless comedy. Bathurst delivers his stream of expertly sculpted, wincingly accurate gags with unflagging, effortless panache"
Time Out
---
Információ a helyszínről
Információ az előadásról
Esti előadások
Friday at 4.30pm
Matinék
Monday to Saturday at 7.30pm
Kezdő dátum
2008-11-25
Végső dátum
2008-12-20
Útmutató

The Leicester Square Theatre is two minutes' walk from Leicester Square tube station, and ten minutes' walk from Charing Cross mainline station.

Térkép megtekintése