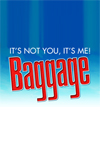 Baggage
Helyszín Arts Theatre
Ár a 9086 Ft
Baggage is the story of close friends, reunited through tragedy hoping to repair their damaged relationship before it's too late. Flashback to Primrose Hill and Lima airport 2007 and enjoy their Internet dating rollercoaster. Can true love and friendship prevail? Click and Add to Basket then Checkout, or Carry on Shopping? After all you're only ever two clicks from blissful happiness. "What became of those people we used to be?"
Információ a helyszínről
Információ az előadásról
Esti előadások
Monday to Saturday 8pm
Matinék
Wednesday and Saturday 4pm
Kezdő dátum
2012-09-06
Végső dátum
2012-10-06
Útmutató
Útmutató
(2mins) Take Cranbourn Street away from Leicester Square up to Great Newport Street on your left, where you can see the theatre.

Térkép megtekintése