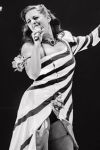 The House of Burlesque
Helyszín Vaults
Ár a 6949 Ft
The ladies from the House of Burlesque bring an evening of exhilarating and extravagant entertainment to the VAULT Festival. Hosted by the bawdy and beautiful Miss Tempest Rose and featuring a selection of the finest international burlesque stars, this show-stopping night of glamorous entertainment promises to be both charming and challenging, showcasing the very best in burlesque. Hold on to your stockings!
Információ a helyszínről
Vaults
Leake Street, Waterloo
London
SE1 8SW
Információ az előadásról
Kezdő dátum
2014-02-21
Végső dátum
2014-02-21
Útmutató

Leave Waterloo via Exit 1. Turn right onto Station Road Approach & keep on the right hand side. Walk to the bottom of the road & down the first set of stairs. Turn right at the bottom & the entrance is 10m on the right hand side.

Térkép megtekintése