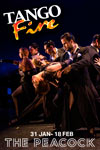 Tango Fire: Flames of Desire
Helyszín Peacock Theatre
Ár a 21145 Ft
Tango Fire returns to the Peacock Theatre after an acclaimed sellout season in 2015. Since its formation, The Tango Fire Company of Buenos Aires has become a worldwide phenomenon and an international leading tango company. With a legion of fans across the USA, Europe and Asia, and a YouTube audience in excess of 18 million, Tango Fire brings this dynamic genre to life like no other show on the West End. Tango Fire encompasses all that defines Argentine Tango: dancing which sizzles with sensuality, accompanied by the unforgettable music of the great Tango masters including Piazzolla, Pugliese and Gardel. As one of the world's most popular dance forms, this exhilarating show combines the rawness and sophistication, seductive and sultry side of Tango, evoking the intoxicating passion of late night Buenos Aires. Featuring international stars of Tango, German Cornejo and Gisela Galeassi plus a cast which includes World Tango Champions and the best dancers from the greatest Tango houses of Buenos Aires. Coupled with the sublime choreography of lead dancer German Cornejo.
Információ a helyszínről
Információ az előadásról
Esti előadások
Tuesday to Saturday at 7:30pm
Matinék
Saturday 2:30pm and Sunday 4.00pm
Kezdő dátum
2017-01-31
Végső dátum
2017-02-18
Előadás hossza:
2 hours
Útmutató

Take the Central or Piccadilly Line to Holborn station. The theatre is a 10 minute walk.

Térkép megtekintése