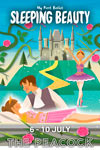 My First Ballet: Sleeping Beauty
Helyszín Peacock Theatre
Ár a 10132 Ft
As a baby, Princess Aurora is cursed by the evil Carabosse: on her 16th birthday, she will prick her finger on a spinning wheel and die. Her godmother the Lilac Fairy alters the spell so Aurora will not die but will sleep for 100 years, only to be awoken by true love's kiss. From Aurora's christening in the grand hall of the palace, to her jubilant wedding celebrations, the popular fairy tale comes alive on stage. With a narrator to help the young audience follow the story, and a shortened version of Tchaikovsky's gorgeous music, this is the perfect introduction to the beauty of ballet, and a fantastic family day out. This unique production is created by English National Ballet's Associate Artist George Williamson and performed by second-year students from English National Ballet School.
Információ a helyszínről
Információ az előadásról
Matinék
Various dates and times
Kezdő dátum
2016-07-08
Végső dátum
2016-07-10
Előadás hossza:

Útmutató

Take the Central or Piccadilly Line to Holborn station. The theatre is a 10 minute walk.

Térkép megtekintése