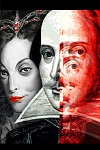 Shakespeare?s Queens & Madness of King Lear
Helyszín Arts Theatre
Ár a 9233 Ft
Shakespeare's seductively powerful Queens and his darkly mad King Lear fascinated audiences at the 2012 Edinburgh Fringe. Now they're together in the West End: two satisfying halves of an eclectic and highly entertaining Shakespearian 'Double Bill'.

Shakespeare's Queens: She-wolves and Serpents
Presented by Straylight Australia
They're dead! But Elizabeth I and Mary Queen of Scots are still arguing furiously over who ruled best. When Shakespeare finds himself caught in the middle, he summons the seductive, ambitious and fabulously powerful Queens from his plays to help settle the dispute.
Meet them all, from the She-wolf of France to the Serpent of the Nile, in this entertaining and fast-paced hour of intrigue, passion, tragedy and triumph.

Shakespeare's The Madness of King Lear
Presented by CW Productions
He's dead, too! But the spirit of the old King is unable to rest as he battles to understand the actions of his three daughters. His dear companion and shamanistic guide, Fool, shape-shifts in taunting flashes of half-glimpsed insight, as the King becomes ever more lost in his memory and his madness. Both tragic and playful, this is 'Lear' as you've never seen it before: an explosive fusion of drama, dance, clowning and comedy.
Információ a helyszínről
Információ az előadásról
Esti előadások
Monday to Saturday 7.30pm
Matinék
Thursday and Saturday 2.30pm
Kezdő dátum
2012-10-16
Végső dátum
2012-11-03
Útmutató

Nearest metro station: Leicester Square Station (Piccadilly / Northern Line).

Térkép megtekintése